This is a fun website (but make sure you have your pop-up blocker turned ON before you visit):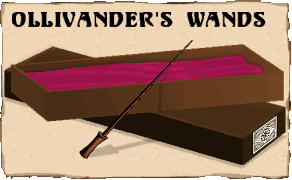 Wood type: maple
Length: 11½ inches
Core: Phoenix Feather




Maple: Maple is a favorite wood for magical wands and has an excellent longevity. Maple wood often symbolizes attraction, luring, drawing in, or bringing things together. It has very positive energy. This wand tends to choose those who have a love an appreciation for beautiful things. It is an excellent wand for love spells and also for Divination.

Phoenix Feather: The Phoenix Feather comes from the tail feathers of a Phoenix, and is especially good with fire or defensive magic, as well as healing magic. This may be due largely to the healing properties Phoenixes have.